multiplicationpack
Multiplication Mastery Pack
*** 4 books saving pack ***
Master multiplication with creative puzzles, inspired by some of history's greatest minds:


Solve a maze with

Einstein

Spot the differences in Marie Curie's lab
Search and find items CJ Walker lost
Connect the dots to reveal Newton's Prism
Decipher a secret message from Nikola Tesla
And much more!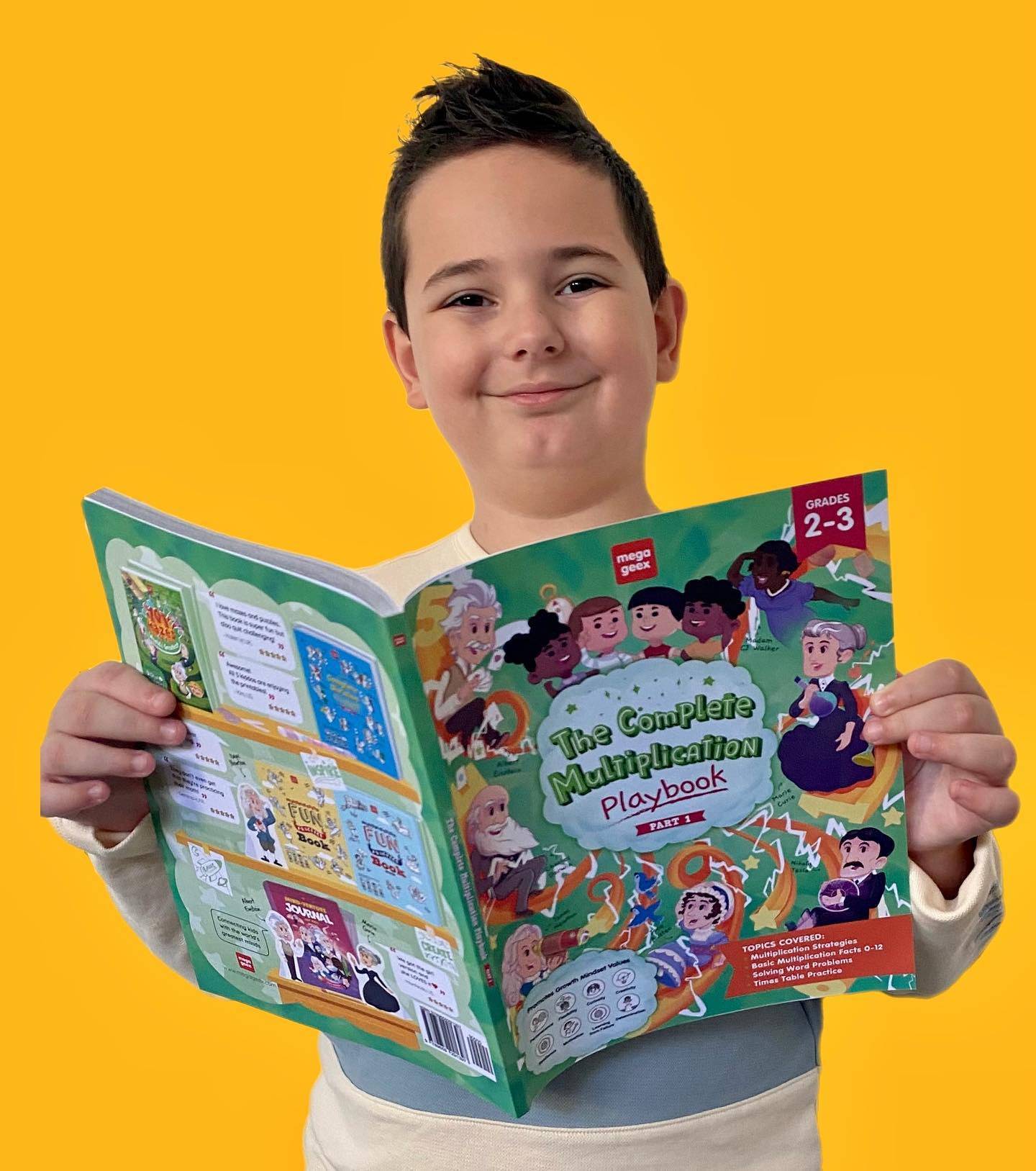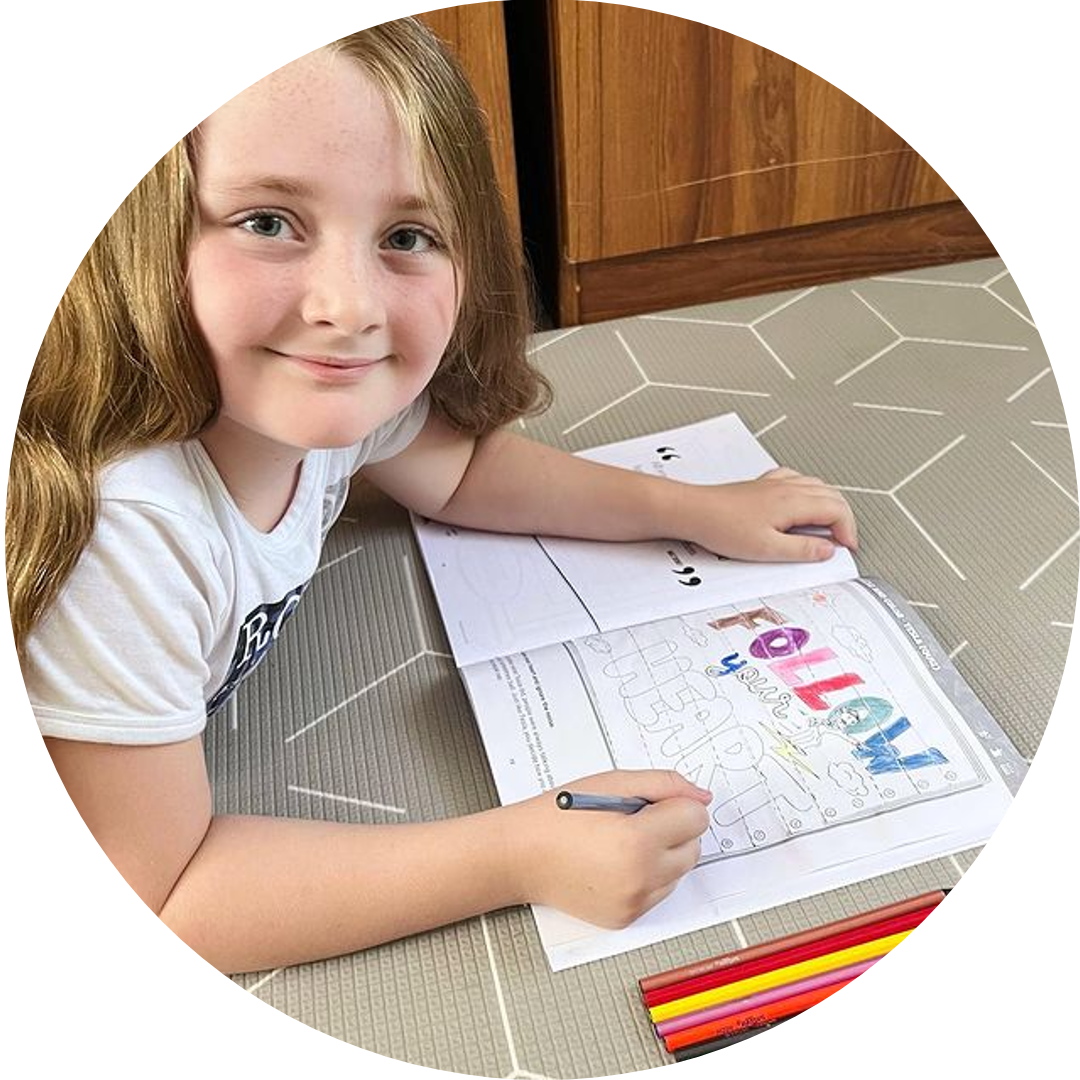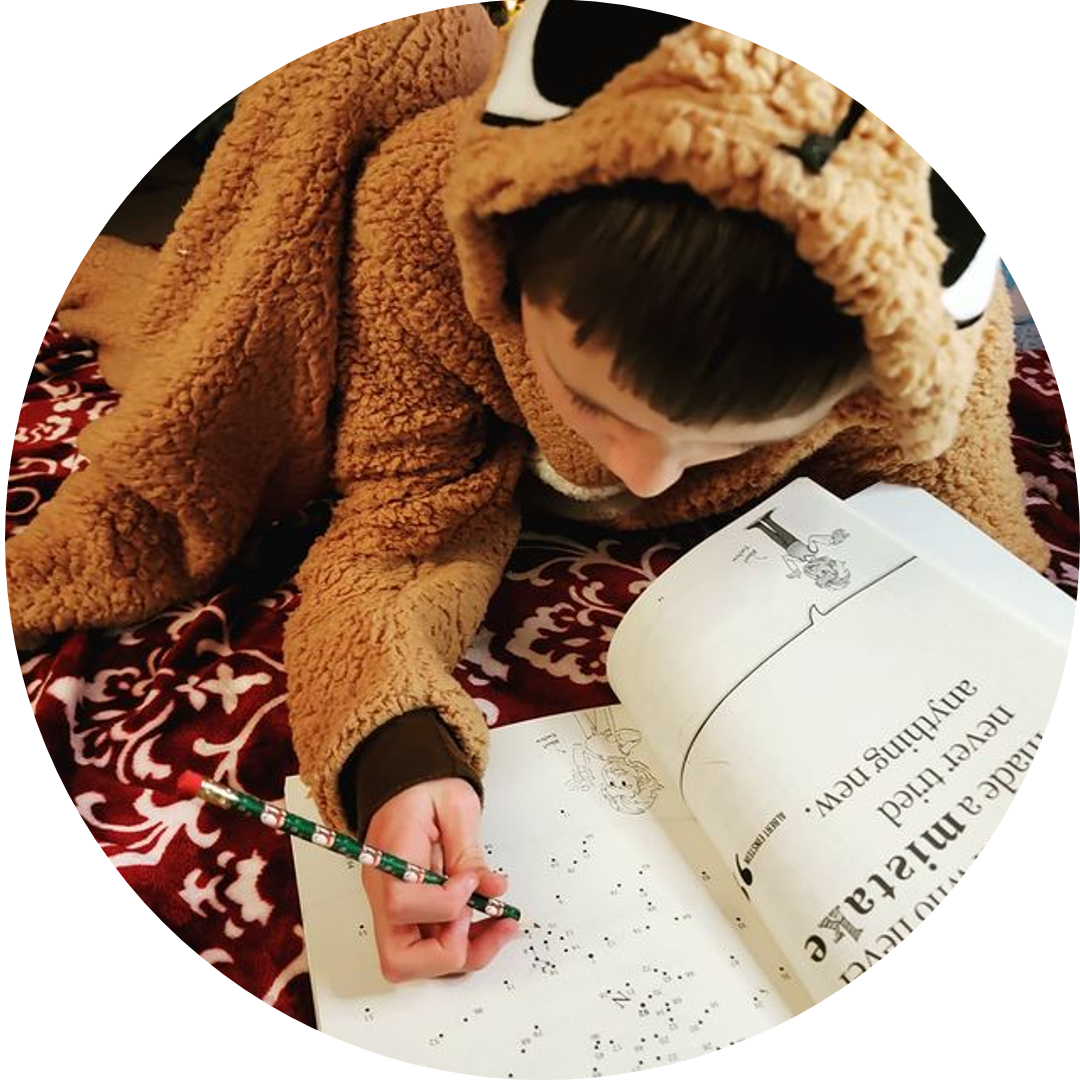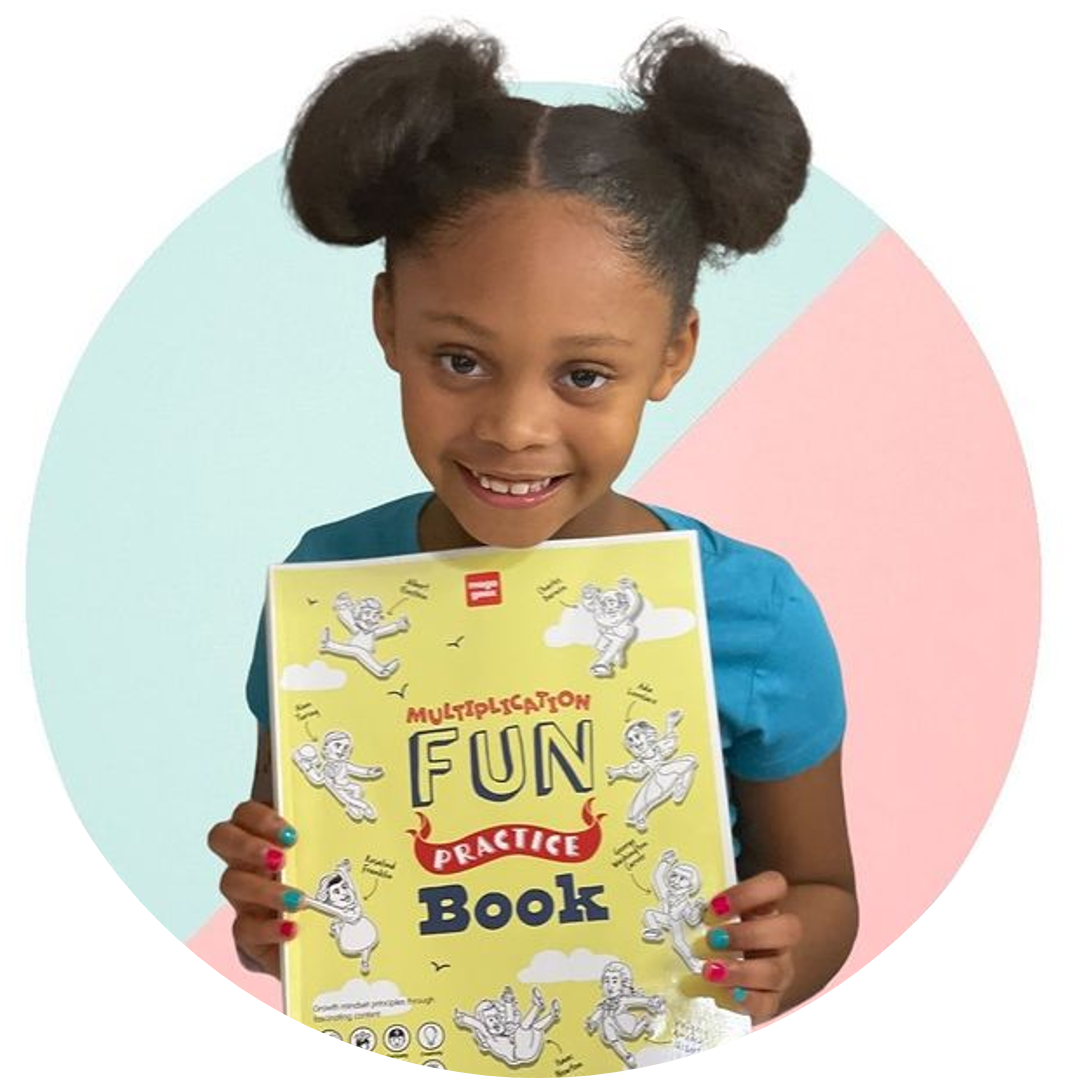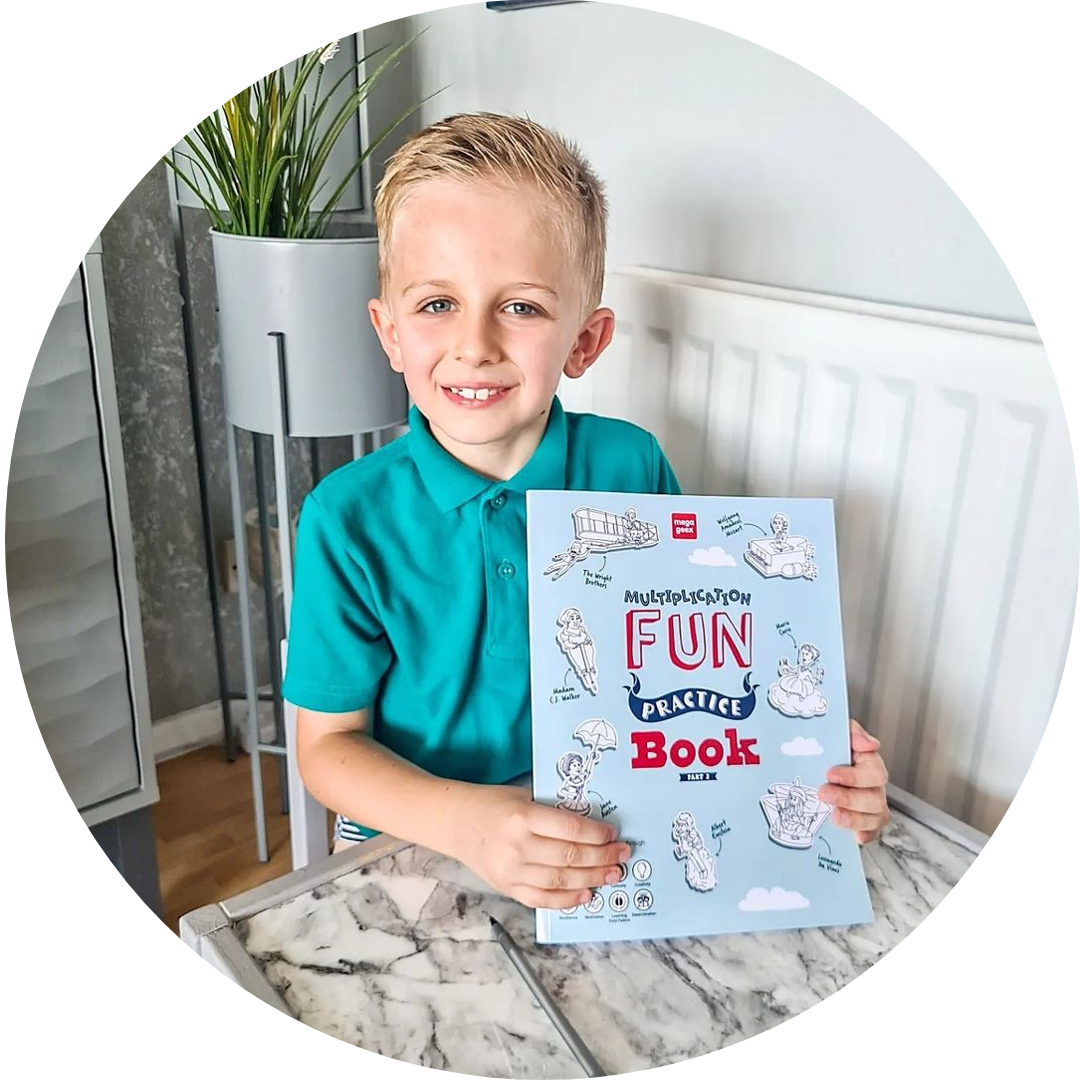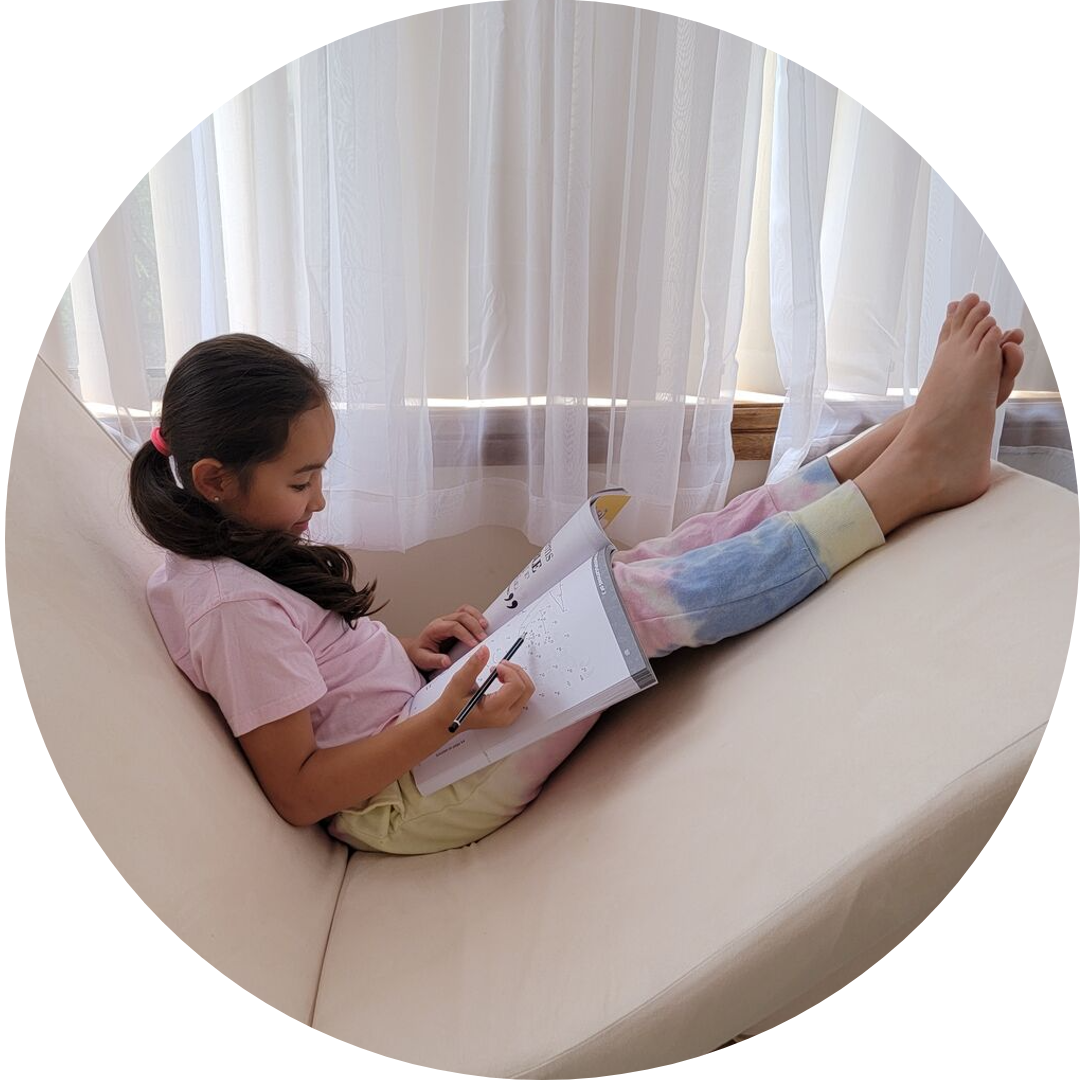 Inspiration by the megaGeex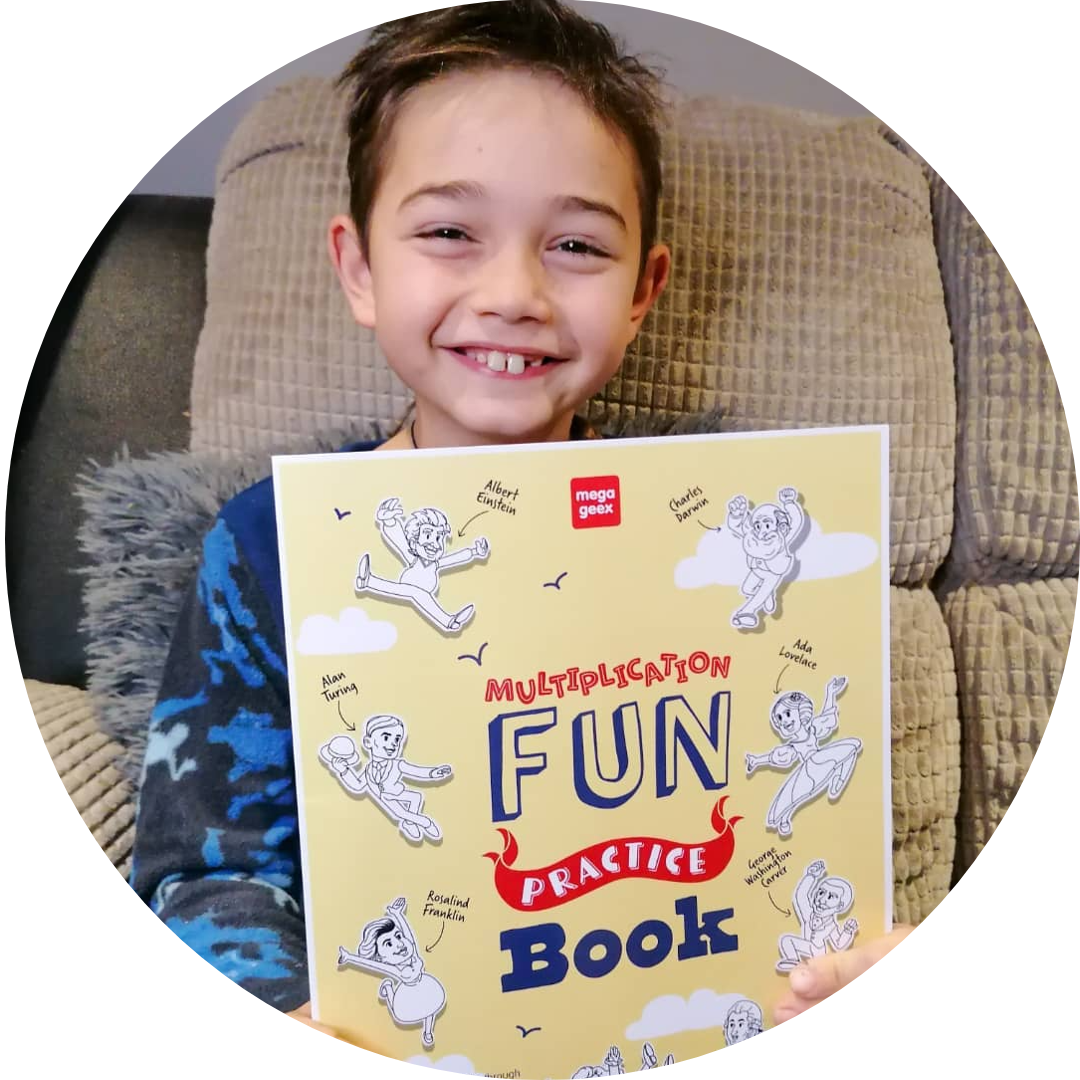 Free Shipping
on purchases over $20
Free Returns
within 3 weeks of purchase
10% Off
for first-time customers
Use code WELCOME10
No more multiplication frustration!
Multiplication Step by Step
Over 350 pages
including:
Basic multiplication

Practice the times table

Multi-digits multiplication
Bonus content: Fun facts, trivia, and inspirational posters.
Brain breaks: math-free pages to enjoy and give your brain a rest
Any Questions? Contact our team:
hello@megageex.com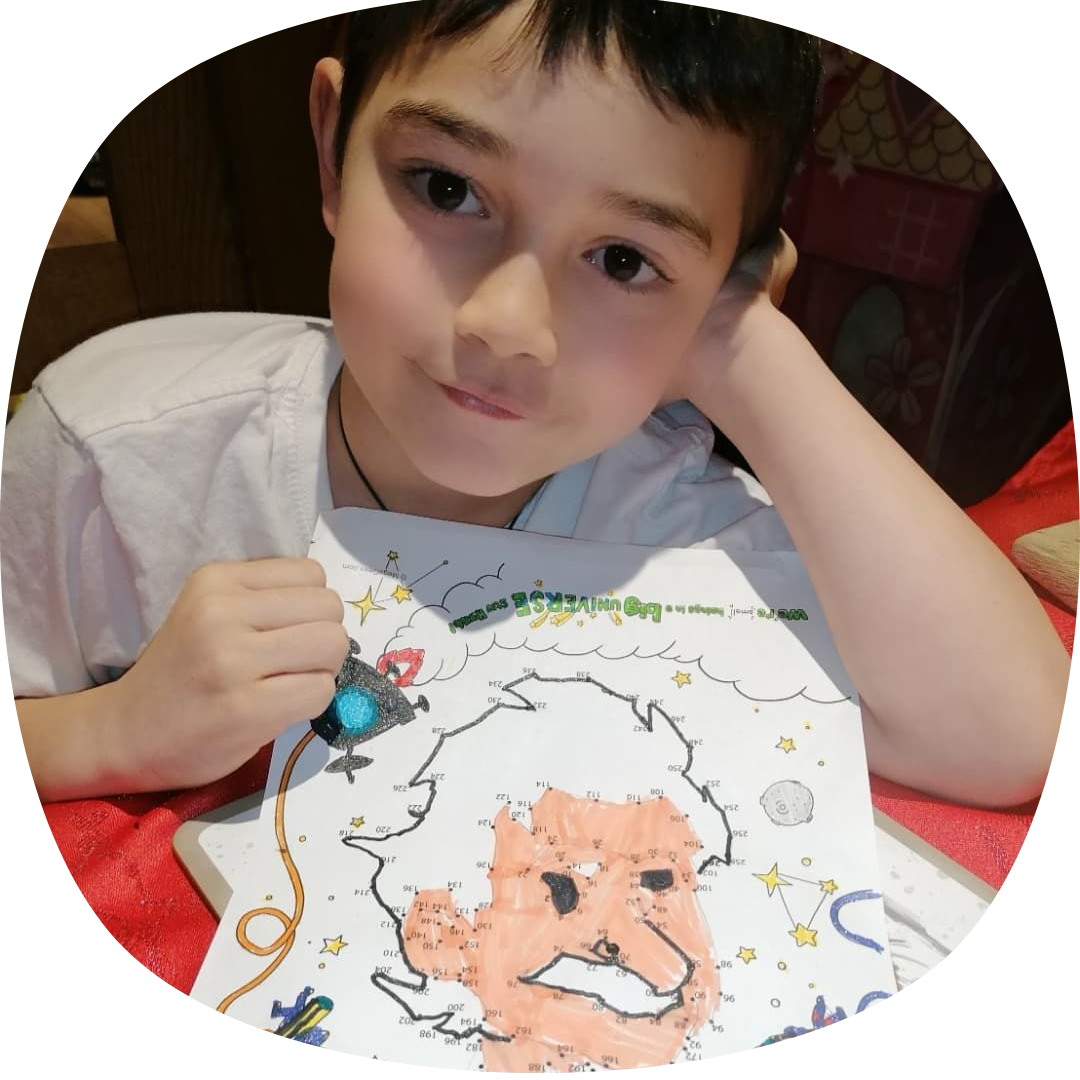 "These books and free printable are absolutely amazing!! The tasks and puzzles are so fun he doesn't even realise he's learning!! Definitely recommend!!"
Jasmine J.  -  19 JAN 2022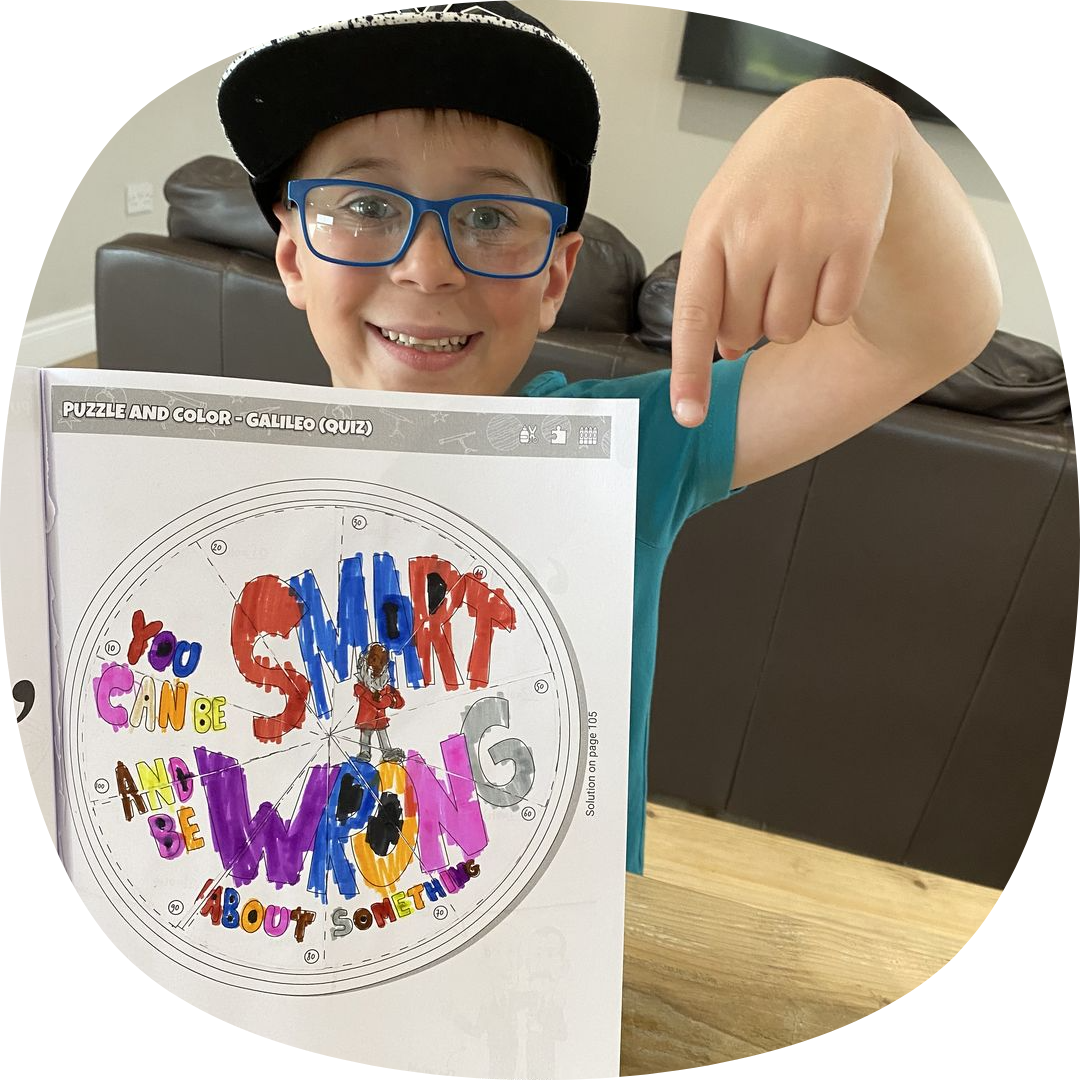 "Such a fun way to learn to multiply through dot to dots and puzzles! We also loved the motivational quotes too! Definitely lots of fun while learning too! Maxwell loved it!"
Maxwell A.  - 13 JUL 2022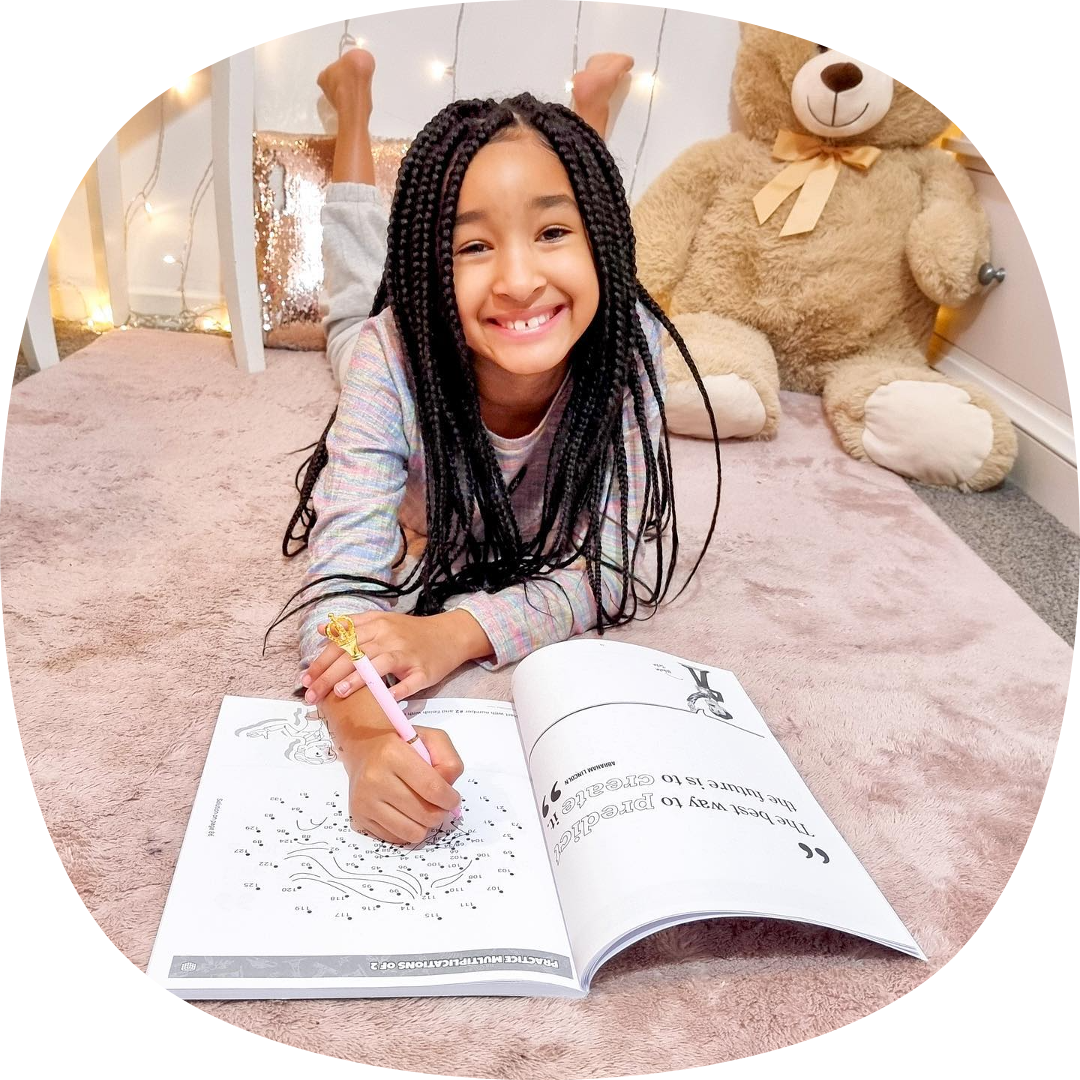 "We love this bundle! The multiplication book is fabulous. I love that my daughter works through the worksheets for fun. It doesn't take any encouragement at all to get her to want to do them because they are fun. And I love the introduction to the Megageex because it has such fabulous, interesting information about each of them."
Nicole M.  -  17 OCT 2022
What makes your math books unique?

MegaGeex makes learning a joyride! Our books blend studying with fun activities and fascinating facts about world-renowned scientists, artists, and entrepreneurs. Your kids won't just crunch numbers; they'll navigate dot-to-dots, solve puzzles, traverse mazes, and uncover secret messages!
Are your activity books and games available in both digital and hard copy formats?

Absolutely! MegaGeex offers both digital downloads and physical books. Choose the convenience of printing at home or the joy of receiving a shiny new book in the mail. Find our hard copy books here.
Do you offer any free content?

Yes, we do! Sign up here for a free mini-magazine and free printables featuring puzzles, games, and more. Keep an eye on your inbox for additional freebies!
Can I share the books with others?

Each purchase is for one household only. But don't worry, we offer additional licenses for sharing. Just drop us a line at hello@megageex.com for details.
Shipping and Download Information
When will I receive my hard copy book?

Most hard copy books should arrive within 10-14 days or less - some territories such as Australia might take a little longer. Need it sooner? Contact us at support@megageex.com and we'll see what we can do.
How do I get my digital book?

Instantly! After purchase, you'll receive an email with a download link. Can't find it? Look for an email from MegaGeex Downloads, or contact us if you're having trouble.
Does the book download link expire?

No, your link is good for life. If it ever stops working, we're here to help!
I didn't receive my download link. What now?

First, check your spam folder. Still no luck? Contact us at support@megageex.com, on Facebook, or Instagram. We'll get you sorted out.
I'm having trouble printing my digital product. What should I do?

We're here to help! Reach out to support@megageex.com with details about your issue.
I don't have a printer. What can I do?

No printer, no problem! We offer hard copy books here.
What does shipping cost?

Shipping costs $5 for the US, CA, and UK, and $8 for the rest of the world. But here's some good news: orders over $20 ship free!
Can I upgrade my digital version to a hard copy?
I received the wrong product or link. What should I do?

Mistakes can happen sometimes and we take full responsibility for them! Please send your order information to support@megageex.com. We'll sort it out ASAP.
What if I'm not happy with my purchase?

We want you and your child to love our products. If you don't, let us know. Our 100% happiness guarantee means we'll do everything we can to put a smile back on your face.
How can I pay for my order?

You can pay using PayPal, or any of these credit cards: Visa, MasterCard, American Express, and Discover.
Can I use your products in my school?

Our products are designed for personal and home use. If you want to use them in a school setting, you'll need a license. Contact us at hello@megageex.com for more information.